You know, in the world of men's style, the kurta has come a long way. It's not just a traditional outfit anymore; it has become versatile and trendy among men of all ages. So, if you're up for it, let's dive into the exciting universe of men kurta design. We'll help you find that perfect style for any occasion, from classic to contemporary. 
1. Classic Straight-Cut Kurta 
The straight-cut kurta is a timeless classic. It's simple yet sophisticated design makes it suitable for various occasions. Whether you're attending a wedding or a casual gathering, this kurta design is a safe and stylish choice. 
2. Pathani Kurta 
Originating from the Indian subcontinent, the Pathani kurta has a distinct style. With its straight-line silhouette, embroidered placket, and often full sleeves, it combines traditional Indian aesthetics with Afghan influences, creating a unique and masculine look. 
3. Angrakha Kurta 
The Angrakha kurta is known for its asymmetrical design with overlapping panels. This style is reminiscent of royal attire and exudes regal charm. Perfect for special occasions, the Angrakha kurta adds a touch of grandeur to your ensemble. 
4. Short Kurta 
Short kurtas have gained popularity for their casual and contemporary appeal. They typically end above the knee and are often paired with churidar pants or jeans. Short kurtas are ideal for a relaxed, everyday look.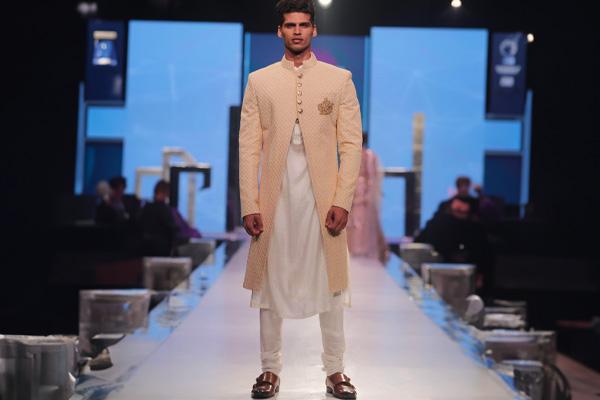 5. Designer Kurta 
Designer kurtas offer a blend of luxury and fashion-forward design. They often feature intricate embroidery, unique fabrics, and exquisite craftsmanship. Designer kurtas are the epitome of sophistication and are perfect for upscale events. 
6. Printed Kurta 
Printed kurtas come in a variety of patterns and colors. From floral motifs to geometric designs, they add a playful and vibrant element to your wardrobe. Printed kurtas are great for festivals and casual outings. 
7. Kurta with Waistcoat 
Pairing a kurta with a waistcoat adds a layer of sophistication to your outfit. The waistcoat can be plain or embroidered, creating a polished and suave look. It's a popular choice for weddings and formal gatherings. 
8. Indo-Western Kurta 
The Indo-Western kurta combines traditional Indian elements with Western influences. This fusion results in contemporary and stylish designs that are perfect for modern men who appreciate cultural diversity. 
9. A-Line Kurta 
The A-line kurta has a flattering silhouette that narrows towards the hem. It's often chosen for its comfortable and flowy fit, making it suitable for relaxed gatherings and festive occasions. 
10. Nehru Collar Kurta 
Named after India's first Prime Minister, Jawaharlal Nehru, this kurta features a mandarin collar and a button-down placket. The Nehru collar kurta is known for its dapper and distinctive appearance. 
With so many men kurta design to choose from, you have the freedom to express your style in diverse ways. Whether you prefer the timeless elegance of a straight-cut kurta or the regal charm of an Angrakha kurta, there's a kurta design for every mood and occasion. 
As you explore the world of men kurta design, remember that your choice of kurta reflects your personality and cultural heritage. Embrace the variety, experiment with different styles, and make every occasion an opportunity to showcase your unique style journey. 
By staying updated with the latest trends in men's kurta designs, you can ensure that you're always at the forefront of fashion, making a lasting impression wherever you go. Happy styling!